Kingston Chiropractor | Barton Chiropractic Centre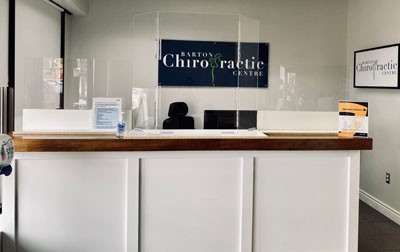 Barton Chiropractic Centre is a referral-based chiropractic practice. We use this website to explain to Kingston-area residents what a chiropractor can do—and what a chiropractor doesn't do.
Are you looking for a natural solution to headaches or back pain? Or perhaps ways to get well and stay well that avoid drugs or surgery? You've found the right place!
Because finding a qualified chiropractor in the Kingston-area begins and ends right here!
Take the first step towards relief by calling our office today. Countless other Kingston-area folks already have!
Dr. Barton | Kingston, ON Chiropractor
Covid-19 Update
COVID-19 Updates from Barton Chiropractic Centre
The health and safety of our patients and team is our highest priority. We are following all recommended social distancing guidelines and measures to ensure a clean, stress-free environment for everyone.
We are pre-screening patients over the phone and spacing out appointments to ensure limited contact. Based on the Ontario Ministry of Health directive, some of the other protocols we've implemented to keep you and your family safe are:
• All staff will be wearing appropriate PPE (Personal Protective Equipment), and we ask that you do the same. The Ministry requires all patients to wear a face mask. Bring one with you, if not one will be provided.
• Limiting the number of people in our waiting room
• Removing magazines, toys and other difficult to clean items
• Disinfecting adjusting tables after every patient visit
• Sanitising all high touch areas regularly
• Keeping hand sanitiser available at all times
If you are experiencing flu-like symptoms, have been out of the country or have been in contact with someone who has been diagnosed with COVID-19, we ask that you self-isolate for 14 days before visiting us.
Thank you for your time and attention, we look forward to seeing you!