Our Satisfaction Guarantee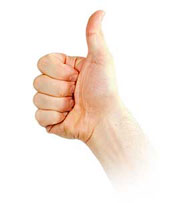 Legislation exists that prohibits us from guaranteeing results, but we can guarantee your satisfaction. So if within six (6) visits to our office you are not completely delighted with your decision to consult us, we will happily refund every penny you've paid.
That's right, you get it all back! No financial risk to you. The muscles and soft tissues will probably still necessitate continued chiropractic care but, by six (6) visits, most patients have seen enough improvement to know that consulting our office was the right choice.